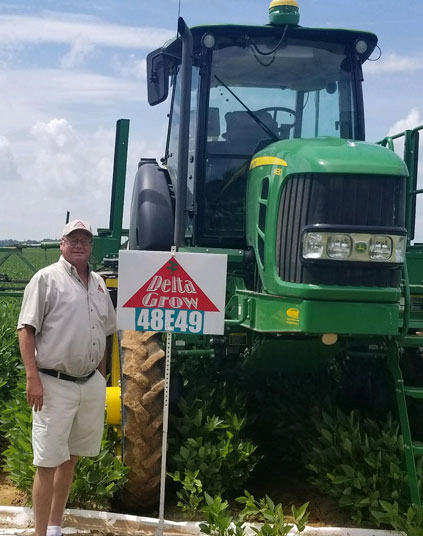 Emery Hughes (1943-2016) began his career in the agriculture industry working for a chemical company in England, Arkansas. After working as an on-the-road salesman for a national chemical company, Emery began his very own business in 1969. Hughes Chemical and Fertilizer and Hughes Seed Company incorporated as Emery Hughes Corporation in February 1978.
Emery's oldest son, Lee, joined him in the business in 1989. The decision was made in 1994 to focus on one product…seed. After selling other companies' brands of seed, such as Agratech and Buckshot 55 soybeans, Emery Hughes developed his own brand of soybean seed in 1998. Obtaining a license to sell Roundup Ready soybean seed from the Monsanto Company, Delta Grow Seed Company incorporated in 2000.
Delta Grow Seed Company now maintains licenses with Bayer CropScience, BASF Corporation, Syngenta, and Corteva. Each of these companies holds membership in Excellence Through Stewardship (ETS). Whatever your soil needs, we have access to the technology that will grow best in your backyard.
In the years we have been a seed distributor, Delta Grow has developed highly valued skills and advanced industry knowledge. We use these abilities to bring you the absolute best in service and results. We're fully committed to maintaining a productive lifelong partnership with our valued customers.
Our salesmen, Larry Crigler for Missouri and Mississippi, and Cecil Jones for Louisiana, have been with us for over seventeen years. They bring a wealth of agricultural seed perfect for their territories. We have recently added Chad Stone to our Arkansas sales force. Lee works diligently to provide the product choice for all of our sales region.
Today, Lee's two sons, Josh and Jacob, have joined the business. The family of Delta Grow knows the importance of faith, family, friends, and farm. We know the importance of good products, good service, and great customers. We invite you to try our line of soybean seed or wheat seed in your field.